Thumb Sucking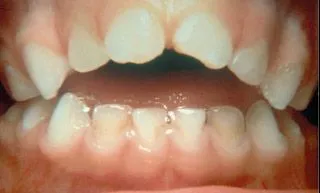 This type of sucking is completely normal for babies and young and children. It provides security. For young babies, it is a way to make contact with and learn about the world. In fact, babies begin to suck on their fingers or thumbs even before they are born.
A Habit Appliance helps deter a persistent thumb sucker or pacifier user. Most children stop sucking on digits or pacifiers on their own between ages 2-4 years of age. However, some children continue these habits for quite some time. Over a prolonged period, malocclusions can result affecting the way the child's teeth bite together, as well as the growth of the jaws and bones that support the teeth.
Pacifiers
Pacifiers are often recommend in infants up to three months for the prevention of SIDS. However, prolonged use of a pacifier, affects a child's dental development the same as stated above. A pacifier habit, however, often is easier to break.
Dr. Karr will discuss options and give different tips for encouraging young children to stop habits on their own. This is something Dr. Karr is very familiar with having children of her own, both who had strong digit habits. If none of the approaches recommended change the behavior, then a mouth appliance that interferes with sucking habits may be the next available option. Again, this is tailored to each individual child since some habits are much more intense or frequent.